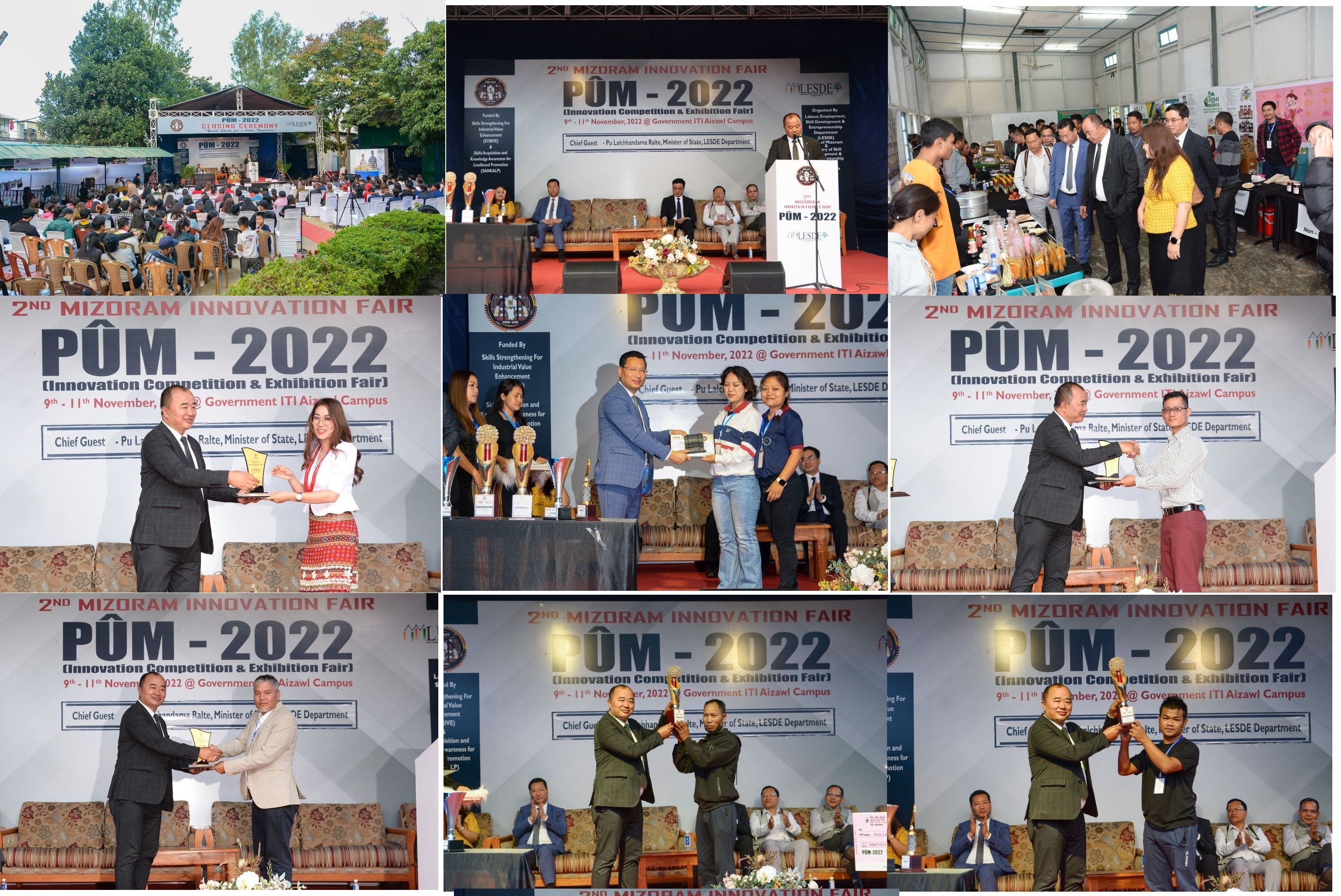 241/2022-2023
Aizawl the 11th November 2022: The closing function of PÛM - 2022, Innovation Competition & Exhibition Fair which was organized by Labour, Employment, Skill Development & Entrepreneurship Department was held on November 11, 2022 at Govt. ITI Campus, Aizawl.
The Chief Guest Hon'ble LESDE Minister Mr. Lalchhandama Ralte also delivered a speech and talk about the relentless work of the department even during the pandemic; how free rations were supplied to hundreds of beneficiaries. He pointed out how major developed nations are generally those that are highly skilled and that India is also following similar footsteps towards this direction. He further encouraged the ITI students not to focus merely on Govt. jobs but rather to take up skill development for future employment.
The programme started with an address by Mr. Lalramsanga Sailo, Secretary, LESDE Deptt. who highlighted briefly about the innovation fair and exhibition. He mentioned the growing importance of skill development today; the promotion of which is one of the major objective of LESDE department. After his short speech all the participants and Judges were presented a Memento by the department.
LESDE Director, Mrs Angela Zothanpuii conveyed gratitude and appreciation to all the participants and gathering of the Fair. She gave a brief report of the fair and competition where she point out that PUM-2022 was organized through World Bank funded schemes namely STRIVE & SANKALP currently functioning under the umbrella of LESDE department. Altogether the programme saw a participation of 11 special invitees who opened their stall at the exhibition and the Innovation Competition witness 25 participants from Engineering trade and 39 from Non-Engineering trade, overall 64 participants in the competition.
The function closed with a vote of thanks from the Addl. Secy LESDE, Mr. K. Lalhmingliana who conveyed his appreciation and acknowledgement to all the participants. He concluded by indicating that the key to a prosperous future for the State lies significantly on the development of skill development. A prize distribution ceremony was held for all the participants of the competition. The winners are as follows –
ENGINEERING CATEGORY WINNER'S
1ST Prize – Lalthafela, Kawnpui, Fitter (Kuhva Thelna)
2nd Prize – Zochhuanmawia, ITI Veng, Electrical & Electronics (Auto Connector/Disconnector)
3rd Prize – PC Lalawmpuia, Hnahlan, Electronics (Non-Contact AC Line Tester)
NON-ENGINEERING CATEGORY WINNER'S
1st Prize - Stephen Lalchawiliana, Lawngtlai,Surface Ornamentation Technique(1,00,000/- & Trophy)
2nd Prize - Vanlalbiakdiki, Sihhmui, Footwear Making (50,000/- & Trophy)
3rd Prize - Lalbiakdika, Chawngtlangpui, Food Production (General) (30,000/- & Trophy)
BEST ITI STUDENTS – (ITI zirlai zinga ti tha ber) :
1st Prize - COPA Trade (2022 Batch), Govt. ITI, Aizawl, Web application. (20,000/-)
2nd Prize – C. Lalrinpuia, Govt. ITI Siaha, Carpentry. (10,000/-)
3rd Prize – Kane Vanlalhriatpuia, Govt. ITI Aizawl : Carryable Mosquito Repellent. (5,000/-)
PEOPLE'S CHOICE AWARD
Engineering Category -Electronic&Telecommunication Eng., Women Polytechnic (5,000/-)
Non-Engineering Category -Baker&Confectionery, Govt. ITI Aiawl (5,000/-)
For the first time in the State, Mizoram Skills & Entrepreneurship Award was also presented to one recipient from each district as follows-
Aizawl

-

Pu C Lalpekliana, Woodland Construction
Lunglei

-

Pu JH Lalramzauva, RZ Construction
Champhai

-

Pu Lalrinchhana Hnamte, GC Carpentry & H&C Design Group
Siaha

-

Pu LH Thatha KMC Firm & Construction Consultancy & VSE
Kolasib

-

Tv. HD Lalhmingliana, HD Furniture
Serchhip

-

Pu Lalsangzuala, S&K Wall Panel Works
Lawngtlai

-

Nl. C Lalnunmawii Chinzah Fashion Inn
Mamit

-

Pu K Vanlalchhuanga, RAPCO Pvt. Ltd.
Khawzawl

-

Tv. Zonunsanga, Joy Mobile Care & Ebenezer Mobil Solution
Saitual

-

Pi Ngurbiaktluangi, Nguri Puantahna
Hnahthial

-

Pu Lalzarzova, Zara Interior Works
Apart from this, Lifetime Achievement Award was also presented to Mr. R. Ramhmangaiha proprietor of Hnam Chhantu