MIZO ṬHALAI JAPAN RAMA NURSE HNATHAWK TUR VAI LIAM A NI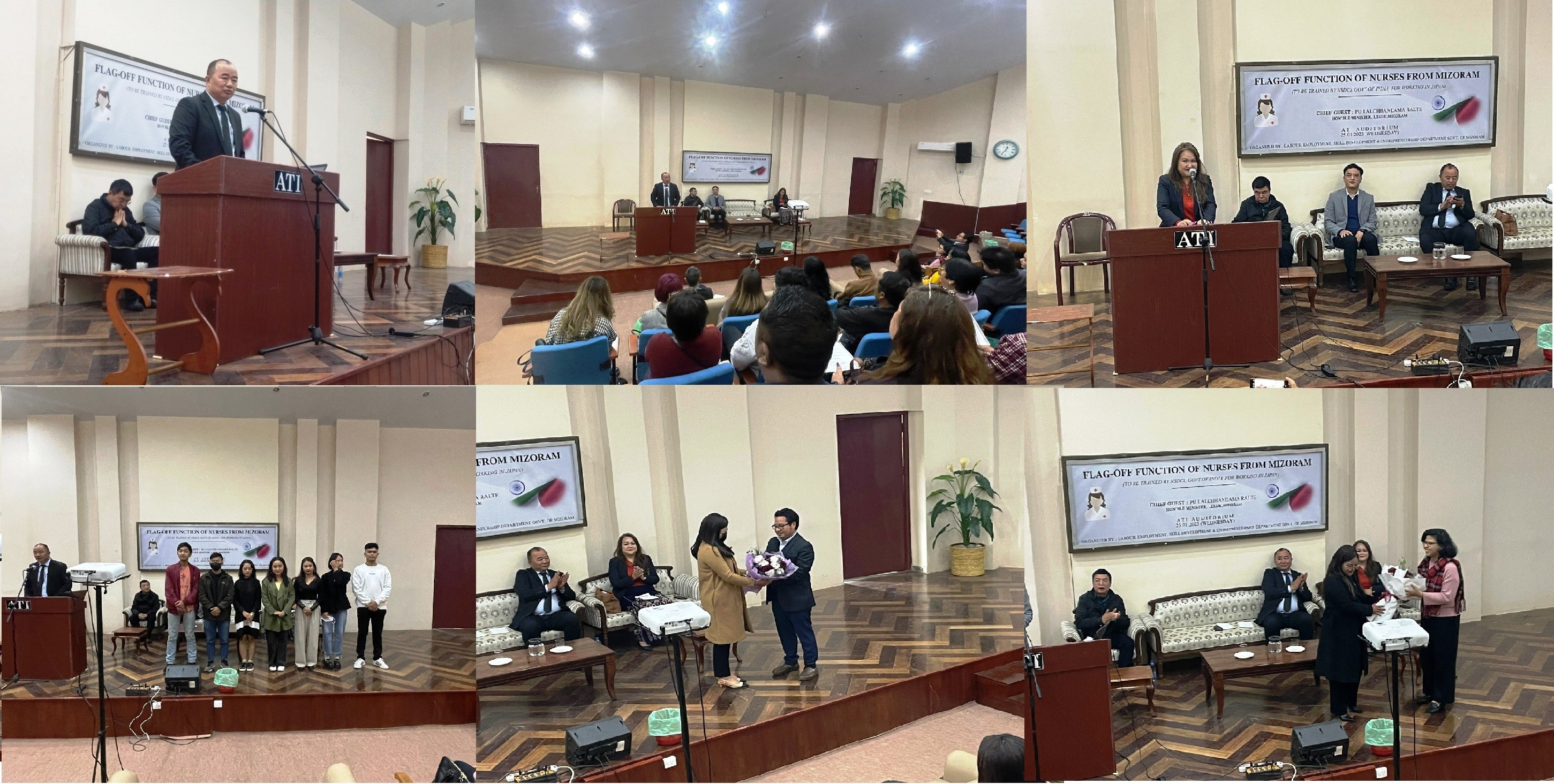 3361/2022-2023
Aizawl 25th January 2023: Vawiin khan Mizo ṭhalai Japan rama Nurse hnathawk tur mi 14 te chu NSDC-I tumsaka Delhi-a Japanese tawng thla 9 chhung zir turin Pu Lalchhandama Ralte, Minister, Labour, Employment, Skill Development & Entrepreneurship Department chuan a vai liam a ni.
Japan leh India sawrkarin thawhhona thuthlung an siam angin Japan rama Nursing Care hna thawk tur thawn luh hna hi National Skill Development Council-International (NSDC-I) chuan a kalpui a, India rama a pilot programme atan Nurse 50 thawn luh phawt a tum a ni. LESDE Department hmalaknain Mizo ṭhalai Nurse hna thawk tur a ṭum khat nan mi 6 kaltir tawh niin, vawiin khan a tum hnih nan mi 14 kaltir leh an ni.
He programme hi Pu Lalramsanga Sailo, Secretary, LESDE Department chuan kaihruaiin Mizo ṭhalai te ram pawna hnathawk thei tur hian theihna sang tak kan nei a, LESDE Department pawhin ṭhalaite eizawnna kawng zawnpui turin theih tawp a chhuah zel dawn a ni a ti. Khuallian, Pu Lalchhandama Ralte, Minister, LESDE Department chuan, Japan rama Nurse hnathawk tura kal turte chu Mizoram tan Ambassador an nih thu leh, Mizo thalai tam takte tan eizawnna kawng sialtu pawimawh tak an nih thu sawiin rinawm leh taima taka thawk turin a fuih a, Kristian kan nih ang ngeiin ring lo mite pawhin kan hnathawh leh kan nunah Pathian ringtu kan nihzia an hmuh ngei theihna turin tawngtaia Pathian au fo turin a chah bawk a ni. He hunah hian Pi Golda Dell Zohmangaihi, Core Faculty, ATI pawhin kal turte tana tangkai tur hrang hrang leh fuihna thu a sawi a, Pi Angela Zothanpuii, Director, LESDE Department chuan Training nei tura kal turte an training dan tur chungchang leh hriattur pawimawhte sawiin he hun hmang tura lo kal zawng zawngte hnenah lawmthu a sawi a, he hunah hian Pi Smita Chetia Talukdar, Regional Manager(NE) leh Pu Masotmi Zimik, Engagement Officer, NSDC lam an tel bawk a ni.
Vawiina thlah liam tak mi 14 te hian thla 9 chhung Training an neih zawhah an thawhna tur biak fel sa hmun te Sawrkar-in a enfelsak zawhah Japan ramah hnathawk turin kaltir an ni ang a, an kalna senso leh tuldang hi an thawhna tur ten an tumsak vek dawn a ni. Mizoram atanga Japan rama Nurse hnathawk tur mi 20 thawnchhuah tawh bakah hian Mizo Thalai ramdanga hnathawhna rintlaka thawk thei turin LESDE Department hian hma a la chhunzawm zel dawn a ni.
LESDE Minister launches Mizoram Employment Exchange online Portal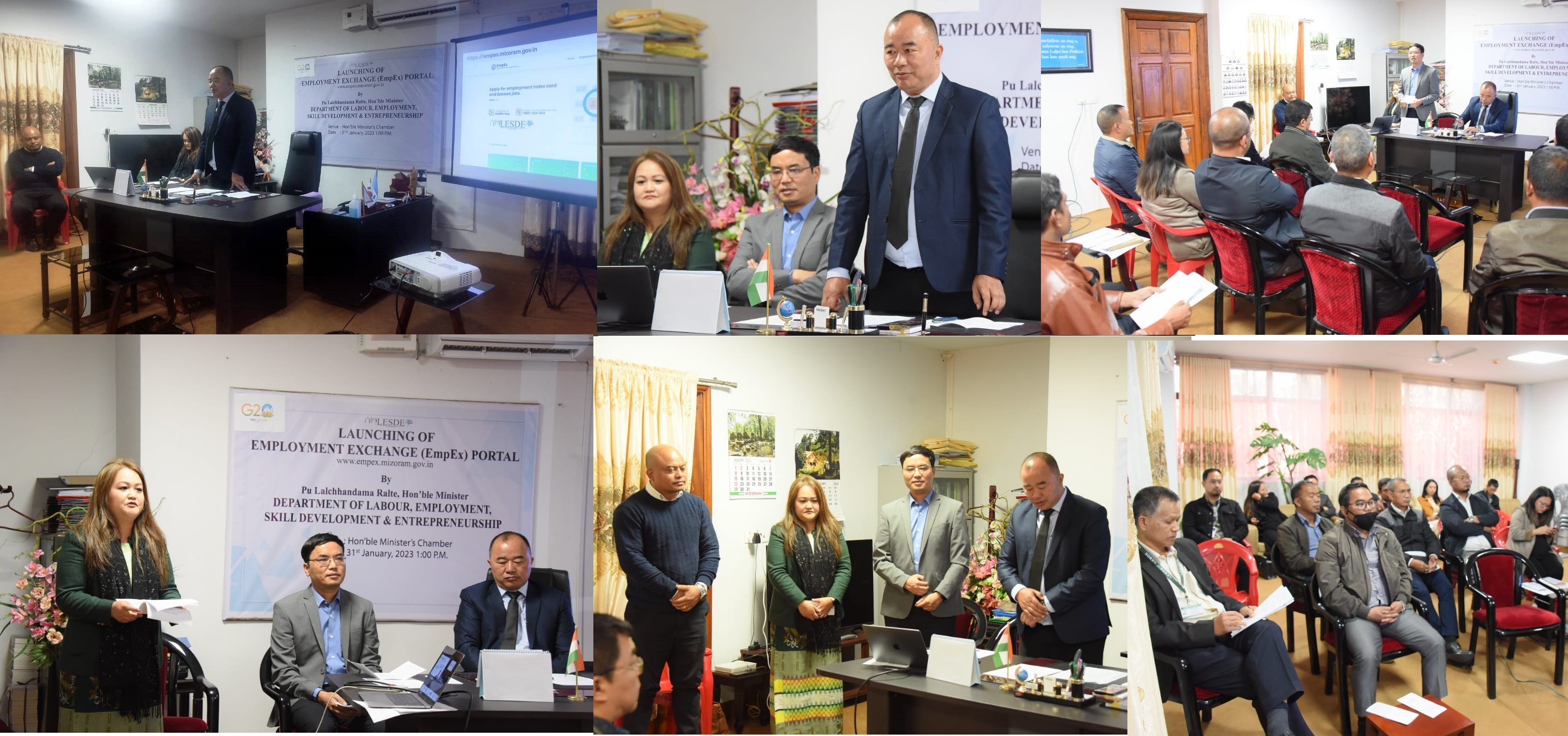 325/2022-2023
Aizawl Dated the 1st February, 2023: Employment Exchange (EmpEx) Online Portal for Job Seekers in Mizoram was inaugurated by Pu Lalchhandama Ralte Minister, LESDE Department on 31st January, 2023 in his office chamber.
Speaking at the launching function, the Minister expressed his pleasure in launching Employment Exchange (EmpEx) Portal for the benefit of youth job seekers. He also said that LESDE Department will work together with all the Government Departments in the state and Corporations under the Government to utilize and post their job vacancies in the Portal. The Minister also highlighted the excellent progress of LESDE Department in creating Skill Development ecosystem and promotion of Entrepreneurship through seed funding support. He also added that the launching of the new EmpEx portal with enhanced and wider scope would be a big achievement for the state and for the youth seeking for jobs.
The Employment Exchange (EmpEx) Portal was made in collaboration with Mizoram State E-Governance Society (MSeGs) and ICT Department. Shri Lalramsanga Sailo, IRS, Secretary, LESDE in his speech expressed his hope that Empex will prove to be a game changer for the job seekers and job providers/employers and highlighted the current problem faced by the job seekers due to the absence of an integrated Job Portal in-spite of availability of a wide variety of jobs in public and private sector.
Shri Isaac Zothanpuia Project Manager, MSeGs gave a powerpoint presentation on the functions and features of EmpEx Portal, which includes integration of EmpEx with National Career Service(NCS) portal under Ministry of Labour and Employment, Employment Registration through portal and mobile Application for both Android and Iphones, Renewal of registration, SMS alert/notifications, Employment for skilled/unskilled labour, Employment news, etc. Employers in public/private sector can easily post their job vacancies through this Portal. EmpEx Portal is linked with Digilocker application and Employment Registration card is downloadable through Digilockers.
Smt Angela Zothanpuii, Director, LESDE chaired the inaugural programme, which was attended by officials of LESDE Department, ICT department and secretariat staffs.