REPORT ON ACTIVITIES / ACHIEVEMENT UNDER SANKALP IN MIZORAM
1. Preparation of State and District Skill Development Plan: The Department deems it necessary to conduct a detailed survey on Labour market, Skill Gap and aspirations available in all districts, thereby conducting skill gap analysis carried out in all 11 districts.
This initiative has been done by Mizoram University Incubation Centre, and the MoU was signed on 10th February 2021, DSDP 2021-2022 has been submitted to the Department and yet SSDP is to be completed by MZU IC and with the help of MGNF, DSDP 2022-2023 is completed and submitted to the Ministry on November 2022.
Outcomes: The end result for preparing State Skill Development Plan and District Skill Development Plan is that the State and District will be able to know the Skill Eco System, Labour Market of Demand and Supply, Skill Gap etc.
2. MGNF: MGNF is a Certificate Program in Public Policy and Management offered by IIMs. It has been designed at the initiative of the Ministry of Skill Development and Entrepreneurship (MSDE), Government of India (GoI) and implemented in collaboration with State Skill Development Missions (SSDMs). Mizoram is being conducted by IIM, Lucknow, where 11 Fellows were being deployed in all Districts. one fellow in each District. MGNF helps in uplifting the Skill Eco-system in the District and help in Formulation of District Skill Development Plan and State Skill Development Plan.
Outcomes: MGNF helps a lot in all 11 Districts by doing researches, assignments and also prepared DSDP 2022-2023 for their respective Districts, Since, the State does not have any dedicated staff in the district MGNF are the Backbone of Skill Development within their respective District.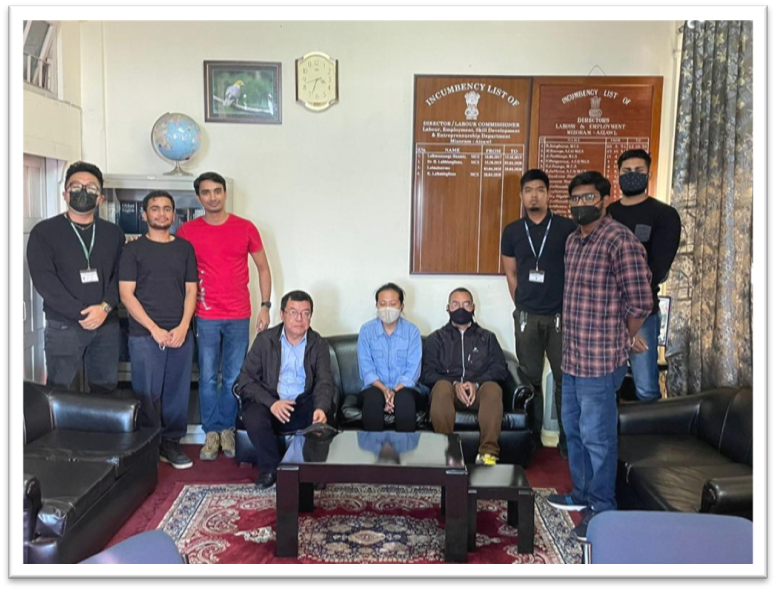 Some of the MGN Fellows in Mission Director Room
3. Baseline Survey: Baseline Survey is a basically a data collection from various Skill Implementing Department, the main purpose of baseline survey is to help convergence of different skill implementing department, 95% of Baseline Survey for the year 2021-2022 is completed so far.
Outcomes : Baseline Survey Data Collection is a way of knowing skill development eco-system and helps in converging different Skill Implementing Department.
4. Tracer Study: Tracer Study is being conducted as per the Manual from MSDE, it aims to study and trace the Pass-out students from Short Term Courses. MoU was signed with SIRD&PR, Government of Mizoram. This is an ongoing project the study will be done shortly by SIRD&PR.
Outcomes : Tracer Studies is design to track individual who have pass-out short term training in order to find out how they use the training and how their lives progress overtime. It is expected to be very helpful for availability of a person who have employable skills.
5. Skill Development Awareness : Skill Development Awareness Campaign has been organized successfully in collaboration with Higher & Technical Education Dept. and Department of School Education, GOM in various Schools and Colleges as well as among the Women. Most of the Govt. Colleges and Schools has been covered and visited all the Districts in Mizoram for this campaign. "WALKATHON" is also being well organized associated with School Education Department by having a theme of "Youth Skills for a better tomorrow".
Outcomes: For the promotion of Skill Development among the Mizo youth and Awareness/Sensitization about Skill Development to students of Govt. Colleges and Schools has been successfully organized. Every session with students is very fruitful in terms of getting more knowledge about the Skill Development and Skill Ecosystem as well, and we are hoping to see the result in the upcoming years. Most of the Mizo Youth/Women and Students now have the basic knowledge of the importance of Skill Development in today's world.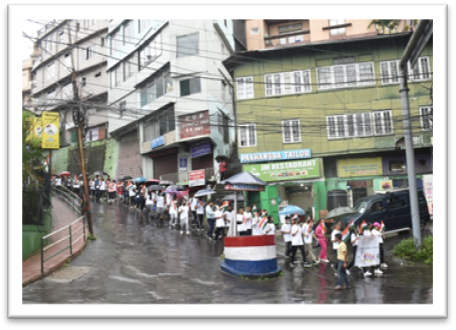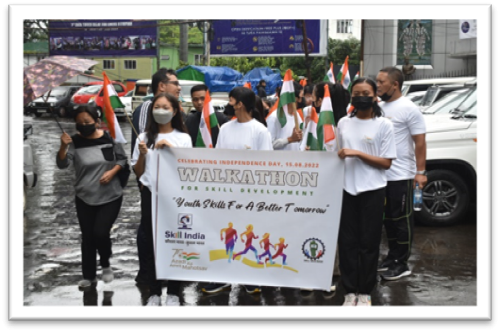 Walkathon rally with Schools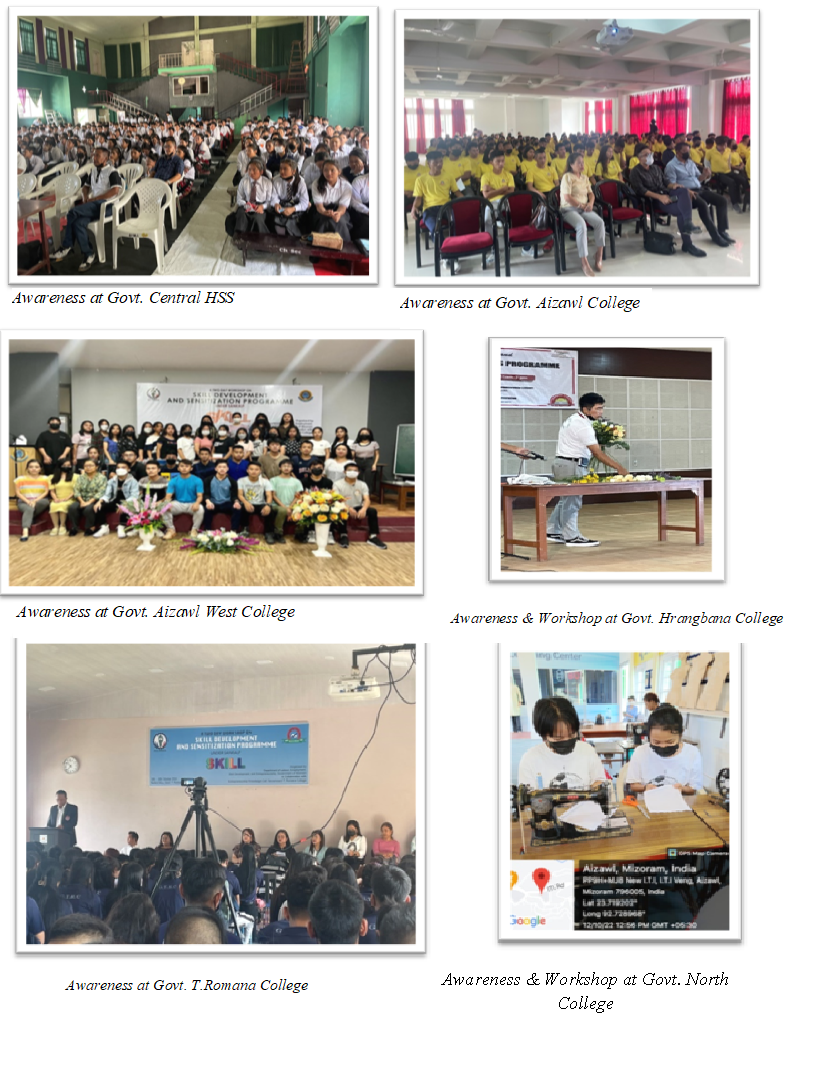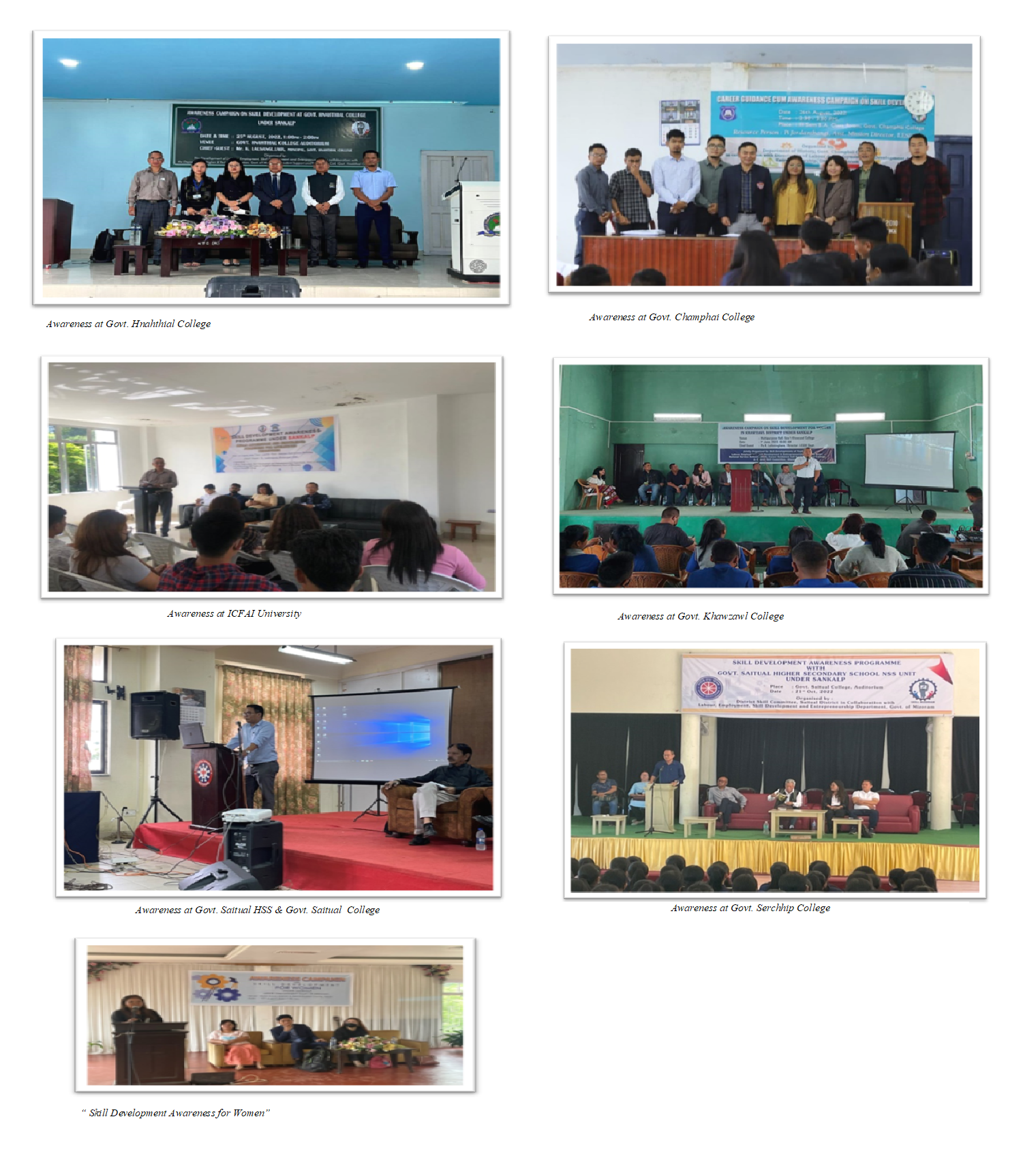 6.MIS Portal: MIS Portal (Skill Mizoram Portal) is in the process of developing, 80 % of the work is done, the software is being developed by the MSeGS, ICT Department.
Outcomes: The Portal will be used for the substitution of Skill India Portal since it is to be integrated with the new portal and also the portal will be used for collecting data from various skill implementing department.
7. Winter Wonderland: Winter Wonderland is a Fair for promoting micro business owned by Women, PwD's & student Entrepreneurs. The fair is a 3-days fair with 41 stalls, most of the stalls were owned by women. The stall features Mizo traditional clothes, own design apparel, decoration, beauty corner and painting. The Chief Guest for the opening function of Winter Wonderland was Ms. Mawimawi-i, who is a physically handicapped, despite her incapability due to her physical condition, she does not wanted to end up like the others, she fights for her survival and she is now a Lawyer (Advocate) practitioner in Aizawl. That makes a winter wonderland so unique and special.
Outcomes : It is a Fair for nurturing Entrepreneur of micro business owned by women's, PwD's & student Entrepreneur and also for promoting the importance of Skill Development and Entrepreneurship among the people of Mizoram.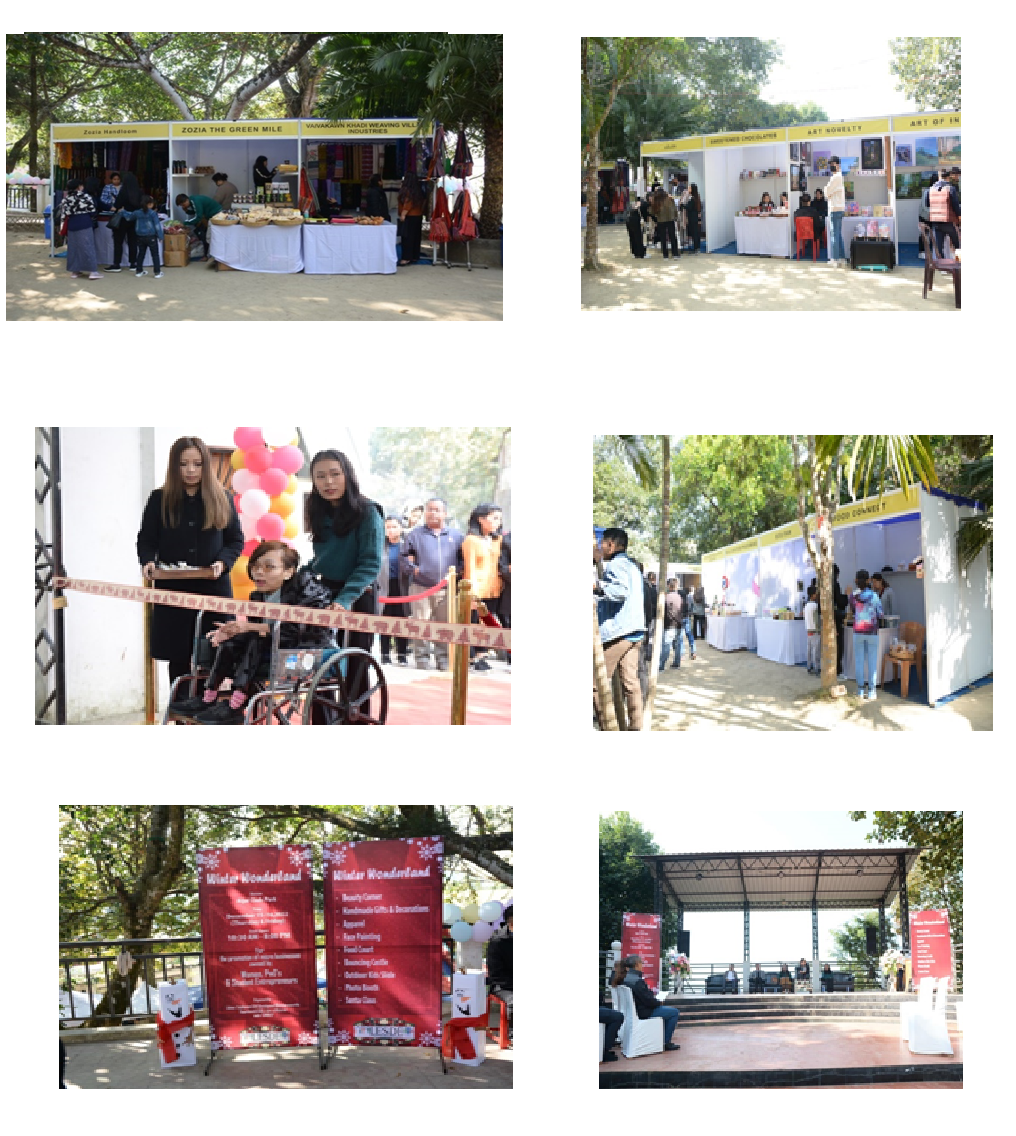 7. Mizoram Skill & Entrepreneurship Award : Mizoram Skill & Entrepreneurship Award is an award initiated under SANKALP, the award was given out to the best/successful 11 Entrepreneurs from 11 districts, one candidate from each district which is nominated and chosen by District Skill Committee from their respective District. Lifetime Achievement Award was given to one person who is a pioneer in Skill Development in Mizoram. The Award distribution ceremony was organized along with the 2nd Mizoram Innovation Fair, PUM 2022 organised under STRIVE at ITI Campus, Aizawl.
Lifetime Achievement Award is also awarded to Pu R.Ramhmangiaha, Hnam Chhantu Pawl for outstanding contribution towards Skill Development in Mizoram.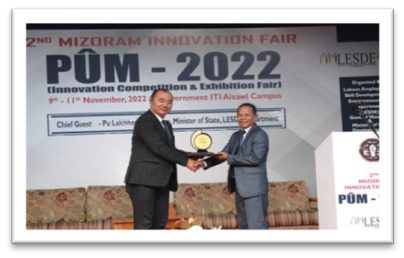 Pu R. Ramhmangaiha is a hardworking and dedicated person who is passionate about Skills and Entrepreneurship. Hnam Chhantu Pawl (HCP) was established on March 3, 1994 under the Leadership of Pu Hmangaiha. The Hnam Chhantu Pawl (HCP) is a Non-Governmental Organization.
They are focusing on teaching people how to use the trees and plants we have in the country. In 2006, a Handloom & Handicraft Showroom was opened under his initiative. He is the President of the Hnam Chhantu Pawl. Currently, He has 17 regular employees and 15 part time employees are employed. He has received many Awards and Recognition Nationwide.
1. Skill Awardee from Aizawl District:
Mr. C. Lalpekliana, Woodland Construction, who worked as a Private School Teacher with interested and enthusiastic in carpentry works and he always wanted to get into a carpentry industry. To follow his passion, he established a private industry, and he has now established the WOODLAND GROUP, which has 5 specialized activities.
Woodland Construction is the most successful and well-known company in the State. Currently, 120 people are working under the Establishment.

2. Awardee from Champhai District:
Mr. Lalrinchhana Hnamte, GC Carpentry Workshop & H&C Design Group, in 2018, he established GC Carpentry workshop and by 2020, H&C Design Group was established. His firm is the most well-known and trusted firm in Champhai District. Currently, 17 people are working under him.
3. Skill Awardee from Hnahthial District:
Mr. Lalzarzova , Zara Interior Works is the first furniture workshop in Hnahthial and it was established in 1997. Mr Zara is a very skillful person. In 2014, Zara Interior Works was established in Hnahthial and Lunglei. Currently, 11 people are working under him.
4. Skill Awardee from Kolasib District:
Mr. H.D Lalhmingliana H.D Furniture : He has a good skill set, not only in mobile making, but also in Carpentry Works. In 2015, he founded HD Furniture to use his skills in furniture works. He employed 1 regular under him . In 2017, he invented Zokhawl (Table Saw). The Zokhawl (Table Saw) has sold a lot and the demands are extremely high.
5. Skill Awardee from Lunglei District:
Mr. JH Lalramzauva, RZ Construction Pu Ramzauva's skills are used to support his family and the community. On November 5, 2019, RZ Construction was established in Lunglawn, Lunglei. RZ Construction is currently employing 20 people, who are earning their living. He has successfully trained several people. RZ Construction is a Mizo company that has successfully manufactured Cement Mixture Machine, Power Hammer, Lifting Hammer, Mixing Machine and Chicken Feeding Machine. He has built 10 houses with these machines.
6. Skill Awardee from Khawzawl District:
Mr. Zonunsanga Joy Mobile Care & Ebenezer Mobile Solution, after completing his mobile repairing course from Govt. ITI, he opened JOY MOBILE CARE in Khawzawl. He trained his two brothers and run the business together. Mobile phones, Parts and Accessories are also sold in his mobile care. In 2020, Ebenezer Mobile Solution was also established in Champhai. Currently, Ebenezer Mobile Solution is one of the biggest mobile sales and repairing Center in Champhai and Khawzawl.
7. Skill Awardee from Lawngtlai District:
Mrs. C. Lalnunmawii, owner of Chinzah Fashion Inn, In 2017, CHINZAH FASHION INN was established in Lawngtlai. She is dedicated and a reliable person. she is the most famous fashion designer in Lawngtlai District. 5 peoples are employed permanently for their livelihood under her establishment
8. Skill Awardee from Mamit District:
Mr. K. VANLALCHUANGA, Chairman RAPCO Pvt. Ltd. Reitlang Organic Producer Company Limited (ROPCO) was established in 2016 in Reiek. ROPCO provided Awareness campaigns for farmers by hiring experts. Famers are benefiting from their efforts. Mr K. Vanlalchuanga is the current Chairman of the Company and he received award on behalf of ROPCO Pvt Ltd.
9. Skill Awardee from Serchhip District:
Mr. Lalsangzuala S&K Wall Panel Works, Pu Sangzuala is a skilled craftsman. He established S&K Wall Panel Works in 2019. He is a well-known and trusted craftsman in Serchhip District.
10. Skill Awardee from Siaha District:
Mr. Lh Thatha KMC Firm & Construction Consultancy & Vocational School Of Education, He established Vocational School of Education in Siaha, In 2021 he established KMC Firm & Construction Consultancy. He also owns Handloom Industry, AISECT Fashion Inn and IELTS coaching center.. Currently, 92 people are working under him. Since the establishment of his vocational training centers, 650 people have successfully acquired skills.
11. Skill Awardee from Saitual District:
Mrs. Ngurbiaktluangi, Nguri Puantahna, Mrs. Nguri was studied till Class 9. She is a handloom craftswoman. In 2015, Nguri Puantahna was established. She is currently employing 20 people.
2nd Mizoram Innovation Fair : PÛM – 2022 :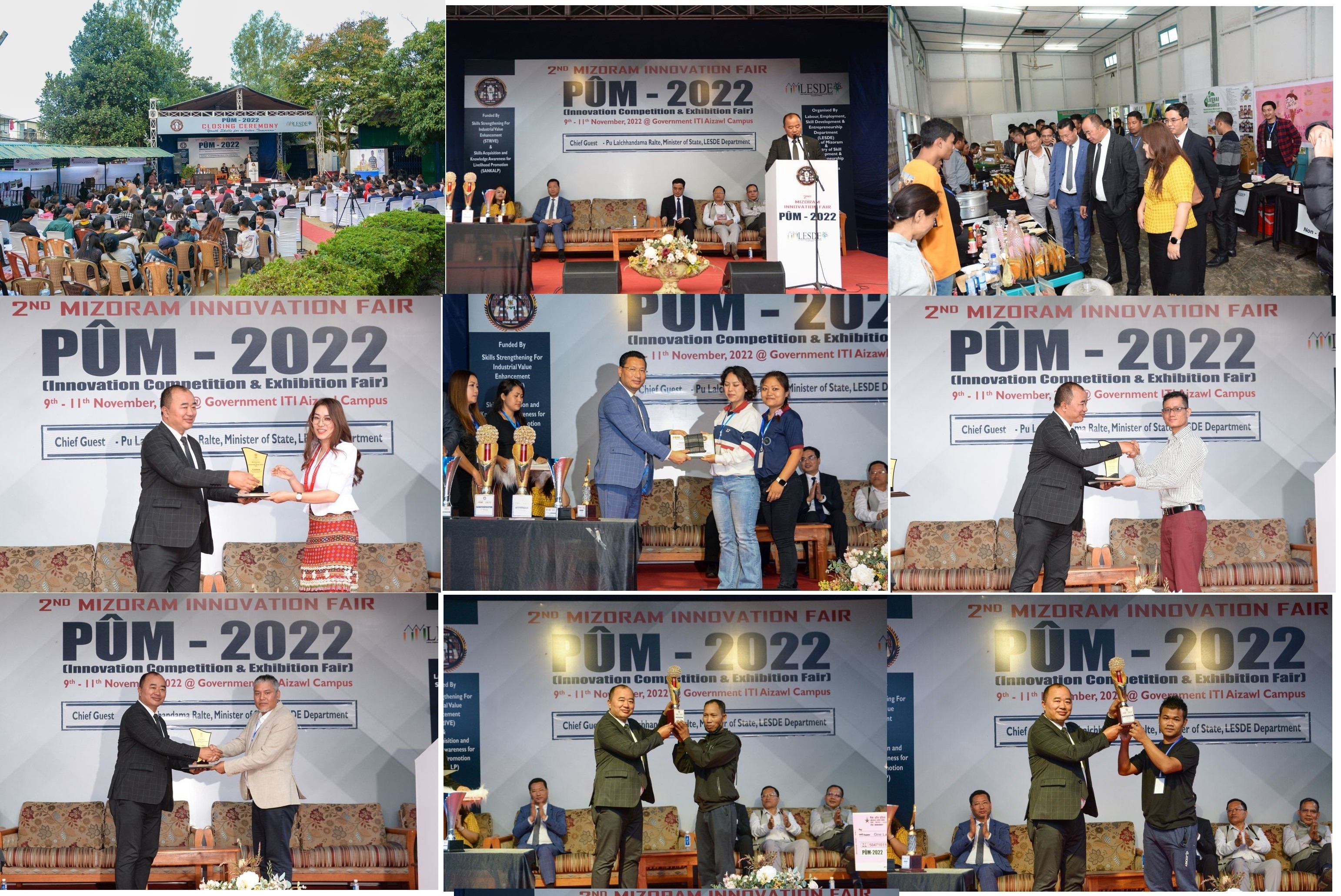 241/2022-2023
Aizawl the 11th November 2022: The closing function of PÛM - 2022, Innovation Competition & Exhibition Fair which was organized by Labour, Employment, Skill Development & Entrepreneurship Department was held on November 11, 2022 at Govt. ITI Campus, Aizawl.
The Chief Guest Hon'ble LESDE Minister Mr. Lalchhandama Ralte also delivered a speech and talk about the relentless work of the department even during the pandemic; how free rations were supplied to hundreds of beneficiaries. He pointed out how major developed nations are generally those that are highly skilled and that India is also following similar footsteps towards this direction. He further encouraged the ITI students not to focus merely on Govt. jobs but rather to take up skill development for future employment.
The programme started with an address by Mr. Lalramsanga Sailo, Secretary, LESDE Deptt. who highlighted briefly about the innovation fair and exhibition. He mentioned the growing importance of skill development today; the promotion of which is one of the major objective of LESDE department. After his short speech all the participants and Judges were presented a Memento by the department.
LESDE Director, Mrs Angela Zothanpuii conveyed gratitude and appreciation to all the participants and gathering of the Fair. She gave a brief report of the fair and competition where she point out that PUM-2022 was organized through World Bank funded schemes namely STRIVE & SANKALP currently functioning under the umbrella of LESDE department. Altogether the programme saw a participation of 11 special invitees who opened their stall at the exhibition and the Innovation Competition witness 25 participants from Engineering trade and 39 from Non-Engineering trade, overall 64 participants in the competition.
The function closed with a vote of thanks from the Addl. Secy LESDE, Mr. K. Lalhmingliana who conveyed his appreciation and acknowledgement to all the participants. He concluded by indicating that the key to a prosperous future for the State lies significantly on the development of skill development. A prize distribution ceremony was held for all the participants of the competition. The winners are as follows –
ENGINEERING CATEGORY WINNER'S
1ST Prize – Lalthafela, Kawnpui, Fitter (Kuhva Thelna)
2nd Prize – Zochhuanmawia, ITI Veng, Electrical & Electronics (Auto Connector/Disconnector)
3rd Prize – PC Lalawmpuia, Hnahlan, Electronics (Non-Contact AC Line Tester)
NON-ENGINEERING CATEGORY WINNER'S
1st Prize - Stephen Lalchawiliana, Lawngtlai,Surface Ornamentation Technique(1,00,000/- & Trophy)
2nd Prize - Vanlalbiakdiki, Sihhmui, Footwear Making (50,000/- & Trophy)
3rd Prize - Lalbiakdika, Chawngtlangpui, Food Production (General) (30,000/- & Trophy)
KAWTCHHUAH: 2022 (Startup Fair for Govt. ITI Pass-outs)
Funded under Skill Strengthening for Industrial Value Enhancement (STRIVE) Project, Ministry of Skill Development & Entrepreneurship, Govt. of India. Organised on 22nd – 23rd March, 2022 at Govt. ITI Campus, Aizawl to inculcate Entrepreneurial culture among ITI Graduates and assist them in setting up their own start up business. Each competitor presented their business plan/pitch before a panel of judges for consideration. Lectures on hard skill & soft skills were also given to them. Amongst 61 registered competitors, 21 were selected and given a seed fund of Rs. 50,000/- each on different ITI trades :-
Computer Operator & Programming Assistant (COPA),

Wireman, Electronic Mechanic

Plumber

Baker & Confectioner

Cutting & Sewing

Welder

Carpenter
Performance will be constantly monitored by the Department. Startup Fair is proposed to be held annually.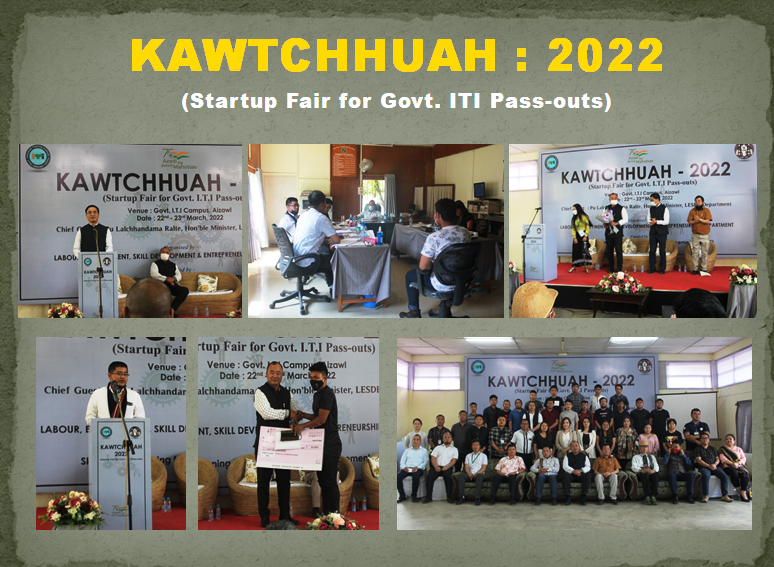 Workshop for overseas opportunities on nursing care in Japan : Workshop for overseas opportunities on nursing care in Japan for Mizo youth is an initiative from NSDCI in collaboration with SSDM, Mizoram. The workshop was organized by LESDE Department funded under SANKALP on 27/10/2022, the programme aims to promote and create job opportunities for Mizo nurses. Nurse students from Mission Foundation Movement School of Nursing, Blessino Nursing School, BN College of Nursing and School of Nursing, Thingdawl participated in the programme.
Outcomes : This will give female youth an opportunity to explore the world as well as earn for their livelihood. Since, unemployment is a common case in Mizoram, exporting youth to other state/country can uplift the economy as well. Currently 6 people undergoing language training in Delhi, and 13 people has been selected and in the process of learning Language in Delhi which is to be Flagged off by the State very soon.
9. National Apprenticeship Mela under SANKALP : Workshops and Awareness campaign for Local Industries and SD Trainees for discussing the benefits of engaging Apprentices had been organized on 21th April 2022 as State Level. The programmed is called "Apprenticeship Mela 2022" along with the support and observed of Nationwide Apprenticeship Mela association with SAMC, STRIVE and funded under SANKALP. In this event 33 Establishment and 45 Apprentice were registered.
Outcomes : In this event, presentation was given regarding Apprenticeship Act 1961 & Subsequence scheme concerning Apprentice, we hope and belief that it was very helpful for establishment as well as students. 33 Establishment and 45 students have registered in the Mela.
SKILL HUBS INITIATIVE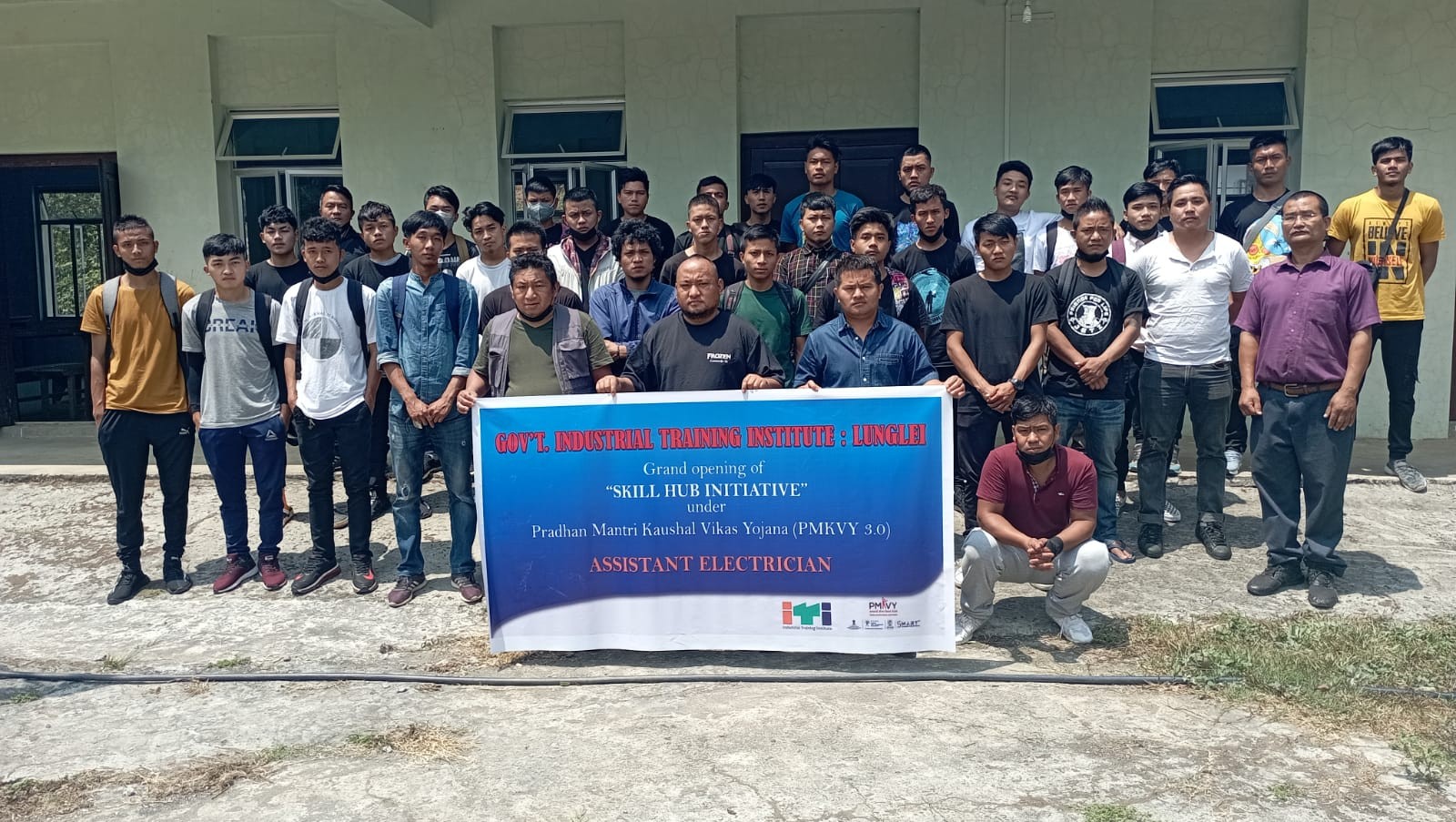 The 'Skill Hubs Initiative' under PMKVY 3.0 aims at creating shared infrastructure, aligning with the needs of the local economy, and addressing the needs of all target segments for vocational training. It is also expected that existing resources in education and skilling system can be put to optimum usage by utilization for skilling beyond normal working hours and during weekends. The scheme is aimed at the following:
Provision of permanent vocational infrastructure and resources for skilling

To ensure contiguous availability of skilling centre's for ease of candidates

Align the vocational offerings at all levels with overall economic and local economy needs
Introduce vocational learning at an early stage with multiple well-defined pathways for candidates to continue with their chosen vocations

Provide vocational offerings for target segments including in-school, drop-outs and out-of-education candidates.